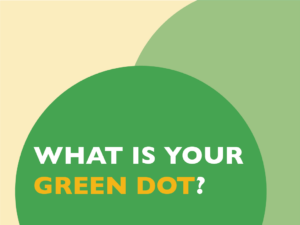 This interactive training program is evidence-based and customizable to fit the needs of your class/group.
Schedule a program preview ranging from 50 – 60 minutes
Schedule a full bystander training that totals approximately 4 hours
Assign your students to attend a full training outside of class for extra credit or to fulfill course requirements.
Request a Preview Session or Training
Earn Your Green Dot Badge!
If you've already attended a full bystander training, you are eligible to earn a digital badge/credential. Display the badge on your social media or online resume tool! Complete the information on this form and we will notify you when the badge has been awarded!